The Mount Calvary Baptist Church located in Ivy, Va. was organized in 1869. The church observed its 46th Anniversary in 1915. Through the years there have been many occasions to do this and in 1992 God has continued to bless us with the church's 123rd anniversary.
Ivy was once a predominately black community and upon obtaining freedom, the blacks were given land in Ivy, as well as mules, one (1) milk cow, two (2) hogs and ten (10) chickens.
The blacks were once allied closely with the white Episcopal Church in Ivy, where they were forced to sit in the basement during services. Dissatisfied with this segregation they built their own church.
The land 1 1/8 acres given to them by a member of the congregation, Bro. William Kenney and his wife Willie Ann, who was in turn given the land by his former master.  Bro. Kenny designed the church and acted as supervisor to the congregation who actually built the church. The trustees Bros. Edward Keys, Nelson Kelly, James Champ and the pastor signed the transaction for ten dollars ($10.00) according to the Deed Book 102 – December 1, 1894.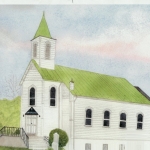 After years of wear by ice, snow and rain, the former hand was destroyed. A new one was carved and given to the church by Mrs. Alice Ivory in 1985. The faces probably refer to Christianity rather than slavery, as sometimes thought. High pitched ceilings and hand carved rafters were once visible in the interior of the church. However, about twenty years ago, the ceiling was lowered for heating purposes.
The house and lot next door to the church owned by Bro. Robert Bell was purchased May 13, 1953 for $1,000.00. The house was torn down for parking space. The trustees who signed were Bros. Robert Bell, Alexander Waller and Whitney Smith (Deed book 305-260).
In 1988, Bro. Henry Hughes gave land for expanding the parking area and a cemetery (Deed Book 1340-012). The Church was affiliated with the Piedmont District Association in 1890.
There is no history of the early pastors who served Mt. Calvary, but we do know that Rev. Timothy Woodfolk was first. Rev. Dave Woodfolk was second and third was Rev. A. L. Goodall, who served from 1920-1924. Rev. Henry Horn pastored from 1925-1929 and was assisted by Rev. Crocket, while he was a student at Lynchburg Seminary. Rev. S.C. Abrams served from 1929-1960.
Rev. Abrams was a renowned teacher and scholar. While he was here the choir stand was moved from the side of the building to the rear of the church and a baptism pool was installed. Rev. Abrams retired after 31 years of dedicated service.
Rev. W. T. Jenkins came to us in 1961 and served until 1973. While Rev. Jenkins was here, a kitchen, restroom facilities, pastor's study, air condition, new pews and pulpit furniture were installed. He was a pastor known for many talents.
Rev. R. L. Brown came to us August 1, 1974 and served until March 31, 2002. Rev. Brown organized a weekly Bible Class and Prayer Service, a well was drilled, the Pastor's study completed, as well as the parking area and cemetery, a fire proof file cabinet installed, pews covered, organ and piano purchased, as well as a memorial plaque, sound system and telephone. He recognized the "Mother" of the church. Rev. Brown also served as one of the musicians.
Dr. Tracie A. Daniels came to us in November 16, 2003. In a short period God has blessed Dr. Daniels to lead the church in increasing its membership. A church constitution has been developed and adopted. The church financial and cemetery records have been computerized. Our church worship has added additional Sundays now meeting four Sunday's each month.
Along with the additional Sunday's of worship our number of choirs has increased. We enjoy a different choir each Sunday including: our Senior Choir, Men's Chorus, Voices of Praise and a 5th Sunday Choir. We are blessed with a Youth Minister and a Mime Dance team. Bible Study is held each Wednesday and the last Wednesday each month is devoted to one hour of prayer. Our church has also grown with outreach ministries including: Advancing Native Missions, The Blue Ridge Food Bank, Support of local Soup kitchen, Samaritan's Purse, Virginia's Adopt- A-Highway Road Side cleanup and others.
September 4, 2009 God blessed our church family to enter in a newly constructed Church building.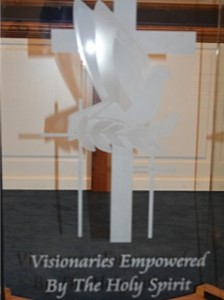 Under their noble guidance, it has been a joy and an inspiration working with our pastors these many years.
All personal and individual gifts that Mt. Calvary has received down through the years have been greatly appreciated with a lasting memory.
Let us not forget those patriarchs who fell on their knees upon entering the sanctuary and gave God the glory and asked Him to make them worthy to be there.
Let us not forget those who so politely asked the children not to chew gum while service was going on.
Let us not forget those who corrected the children in a nice way if they looked back when someone entered the sanctuary. That was a sign that they were not concentrating on the sermon.
So some history of Mt. Calvary still lives on in our memory. We have a wonderful new building – the most important thing for a church is its people and their love for God.